Priory Church, St Michael's Mount, Cornwall - P805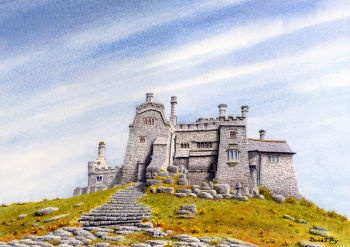 Priory Church, St Michael's Mount, Cornwall - P805
St. Michael's Mount is a tidal Island in Mount's Bay, Cornwall.
The Island is linked to the town of Marazion by a man made causeway of granite Blocks, passable between mid-tide and low water. It is managed by the National Trust and the castle and chapel have been home to the St. Aubyn family since approximately 1650. The earliest building on the summit, including the castle, date to the 12th century.
Original watercolour, image size 13.75" x 10".
Mounted to fit frame size 20" x 16".
Price £245
The signed, embossed limited edition print, mounted to fit frame size 14"x 11"
Price £40