About The Artist: David J Fry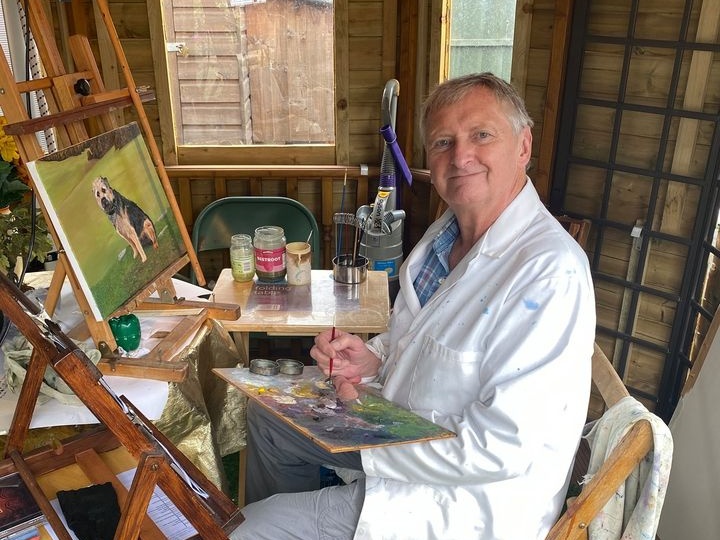 I was born in 1948 in Epping, Essex. Moved to Herefordshire when too young to remember. Lived at numerous addresses in Hereford and the surrounding countryside. Left school at fifteen and become a cinema projectionist, had numerous jobs until in 1968 when I joined the Government as an industrial civil servant. I was fortunate enough to be given the opportunity to go to college where I gained electrical engineering qualifications. Twenty five years on, and the opportunity to spend my time following my love of art presented itself to me so with a pencil in one hand and a brush in the other, I became an artist.
I have lived for over fifty years in the beautiful county of Herefordshire. Growing up in the country, never taking for granted the magic and beauty of the landscape that surrounded me. As a young boy I constantly drew and painted pictures on anything that was available , from cereal boxes to greeting cards. Fortunately, materials have improved and are easily acquired nowadays.
Other interests and commitments took over until a chance comment to my wife, who happens to be my keenest critic, rekindled my desire to draw and paint. In 1989 I started painting in oils, as a hobby, never realising that one day I would turn professional and be able to spend my time committed to my art.
Although self taught I have studied, read and taken note of painters of the Victorian area who I have great admiration for, romantic pictures with fine detail and bright warm colour. Although out of fashion in the hustle and bustle of the twenty first century there is still a place for pictures of peace and tranquillity as sales of my paintings and prints have proved. The majority of my work has been of the Herefordshire landscape, not just the rivers and streams but buildings in village and town, capturing the character and style of bygone architecture. Several of my paintings have been produced from old black and white photographs as the scenes depicted no longer exist, timber framed houses and buildings of immense beauty having been pulled down to make way for concrete and glass due to the whim of fashion.
The majority of my paintings have been sketched before hand as this gives a feel for the subject, mood and atmosphere can be altered, offending cow pats can be removed and wildlife that refused to stay still can be added. Otherwise, with a little bit of licence the scenes can be found locally around Herefordshire. In August of 1993, I exhibited my first paintings at the Autumn Show in Malvern which was the beginning of many until my first solo exhibition at Easter of 1995. Since then I have had my work exhibited in over sixty venues as well as having prints and cards on permanent display in shops and galleries. A lot of my original paintings and prints have been bought by overseas collectors and have been sent to the far corners of the globe.