Mordiford Bridge and The Church of the Holy Rood, Herefordshire - P600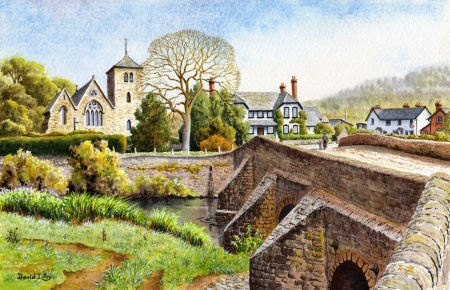 Mordiford Bridge and The Church of the Holy Rood, Herefordshire - P600
The earliest bridge at this point dates from around 1352. Mordiford also had it's own dragon, alas no longer with us. It lived in Haugh Wood and would come down to get a man for his dinner. A condemned criminal was offered his life if he would kill the dragon which he did by hiding in a cider barrel and shooting an arrow through the bung hole. Not being able to get out of the barrel quick enough, he was killed by the fumes of the dying dragon.
Original watercolour, image size. size 9" x 5.75".
Mounted to fit frame size 15" x 12".
Price £195
The signed, embossed limited edition print, mounted to fit frame size 14"x 11"
Price £40