Minack Theatre, Cornwall - P778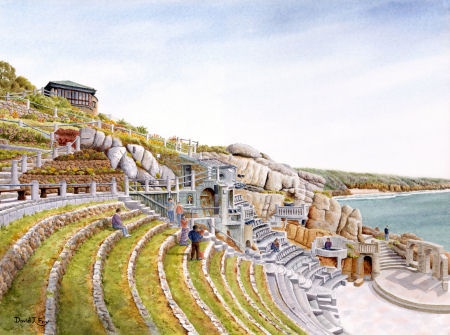 Minack Theatre, Cornwall - P778
The Minack is a unique open air theatre perched on the cliff high above the Atlantic Ocean. The theatre was the brainchild of Rowena Cade, who lived at Minack House overlooking Porthcurno Bay. Rowena became involved in local theatre and in 1930 she started to plan a theatre in her garden. With the help of her gardeners she shaped the theatre seating and stage from the rock. In 2014 the Minack Theare was selected as one of the most spectacular theatres in the world.
Original watercolour, image size 13" x 10".
Mounted to fit frame size 20" x 16".
Price £245
The signed, embossed limited edition print, mounted to fit frame size 14"x 11"
Price £40