The River Wye and Cherry Hill near Fownhope, Herefordshire - P693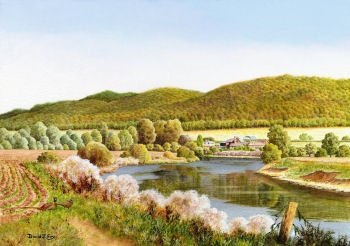 The River Wye and Cherry Hill near Fownhope, Herefordshire - P693
Lush meadows by the side of the River Wye with a backdrop of wooded hills. In spring time the wild cherry blossom covers the hill which leads to the Iron Age Hill Fort.
Original watercolour, image size 14" x 9.75".
Mounted to fit frame size 20" x 16".
Price £245
The signed, embossed limited edition print, mounted to fit frame size 14"x 11"
Price £40