The Green Man Inn, Fownhope, Herefordshire - P676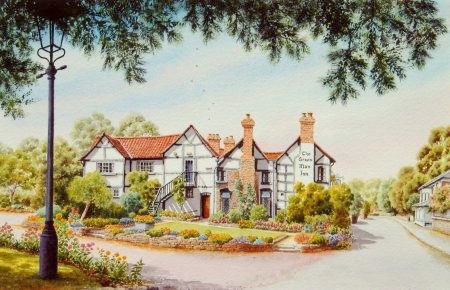 The Green Man Inn, Fownhope, Herefordshire - P676
In 1485 it was known as "The Naked Boy". During the civil war, in 1645 the Roundhead colonel, John Birch stayed there after the siege of Goodrich Castle before moving on to capture Hereford. There is a mural in The Naked Boy Restaurant of Tom Spring, Prize Fighter of all England, (1823-1824). One of his fights lasted for over three hours and went on for 77 rounds.
Original watercolour, image size 12" x 7.75".
(Original Watercolour SOLD)
The signed, embossed limited edition print, mounted to fit frame size 14"x 11"
Price £40