River Wye, Old Bridge and Hereford Cathedral. - P650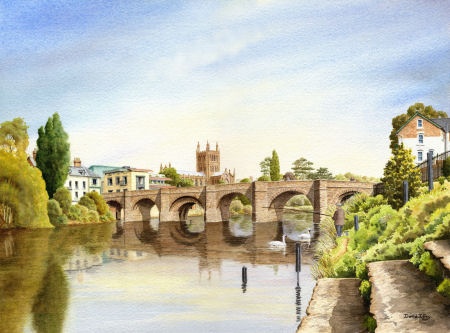 River Wye, Old Bridge and Hereford Cathedral. - P650
On this side of the river, standing by the Saracen's Head public house, look at the Old Bridge over the river. One of the arches was blown up in the Civil War and was rebuilt slightly thicker than the rest of the bridge. There was a tunnel from the cathedral to the bridge which was used as a means of escape which has now sadly collapsed over the centuries.
Original Watercolour, image size 13.5"x9.5"
Mounted to fit frame size 20"x16"
Price £245
A signed, embossed, limited edition print, mounted to fit frame size 14"x 11"
Price £40.