Port Isaac, Cornwall - P791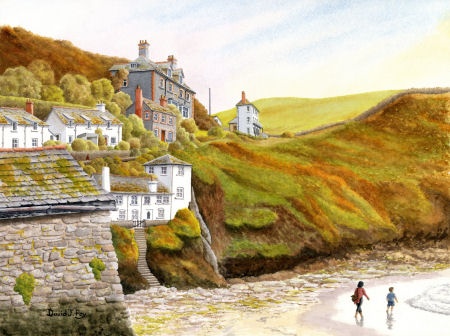 Port Isaac, Cornwall - P791
Port Isaac is a small fishing village on the Atlantic coast of north Cornwall. This ancient Cornish fishing village has great charm, a picturesque location, a fine history and very friendly people. The village plays the fictional Portwenn in the much loved Doc Martin T.V. series. Also, based on true events from 2009, it tells the story of a bunch of men, most of them fishermen who formed a group singing sea shanties. After a had days work they would retire to their local pub, The Golden Lion for a few pints and sing. They were to become famous as the Fisherman's Friends and a film, although slighty fictioalized would tell of their rise to stardom. Well worth a visit.
Original watercolour, image size 13" x 9.75".
Mounted to fit frame size 20" x 16".
Price £245
The signed, embossed limited edition print, mounted to fit frame size 14"x 11"
Price £40