Hereford Old Bridge, circa 1900. - P690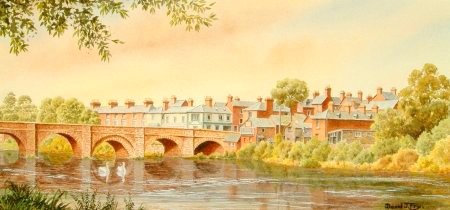 Hereford Old Bridge, circa 1900. - P690
The scene is not too dissimular to the one we see today. The houses to the left of the bridge are still there but the buildings to the right have long gone, replaced by Sully's Garage and then by Mead and Tomkin's motor cycle showroom and garage. This was replaced by the Left Bank Village, opened in 2000 which ramains today, although not in use at the moment as it went into receivership in 2010. very sad, lt's hope it re-opens in the near future.
Original watercolour, image size 13" x 6".
Mounted to fit frame size 19" x 13".
Price £195
A signed, embossed, limited edition print, mounted to fit frame size 14"x 11"
Price £40.