Hereford High Town. circa 1900 - P627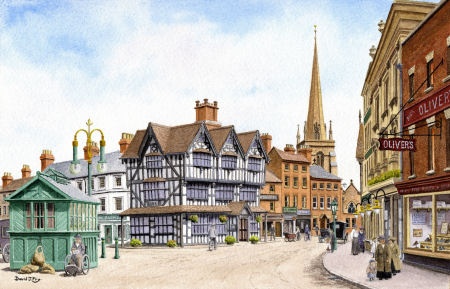 Hereford High Town. circa 1900 - P627
The Old House in High Town was built in 1621 and was one of a pair situated in 'The Butchery'. In 1837 it became isolated as the only remaining house in High Town. It has been a butchers, a saddlers, a hardware shop and a bank. Lloyds Bank took it over and in 1928 presented it to the city to be used as a museum.
The green hut was used by the city's cabbies to shelter when the weather was inclement and to store hay and provisions. There were two huts, one in High Town and one in Broad Street, one was destroyed by fire, the other moved to the Bishops Meadows and later discarded and thrown in a skip. What a waste, another valuable item lost forever.
Mr. Derek Foxton kindly gave me permission to use a black and white image from one of his series of books, Then and Now book one to paint this watercolour.
Original watercolour, image size 9.75" x 6.25".
Mounted to fit frame size 16" x 12".
Price £245
A signed, embossed limited edition print, mounted to fit frame size 14"x 11"
Price £40.