Hereford Cattle, Mordiford, Herefordshire. - P757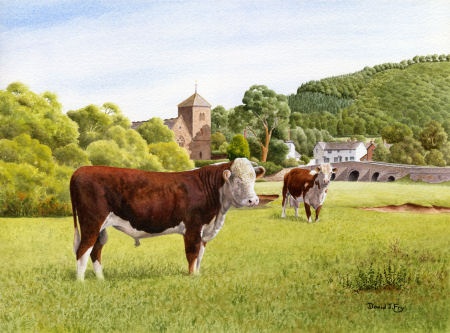 Hereford Cattle, Mordiford, Herefordshire. - P757
Originally founded on the draught ox descended from small red cattle of Roman Britain and from a large Welsh breed once numerous along the borders of England and Wales. In the 1700s individual Herefords began to be selected for their beef characteristics rather than for those of a good plough ox. In 1846 the first Herd Book was published with the Herd Book Society being established in 1878. In 1996 the Society changed its name to the Hereford Cattle Society.
Original watercolour, image size 14"x 10"
(Original Watercolour SOLD)
The signed, embossed, limited edition print, mounted to fit frame size 14"x 11"
Price £40