Hereford Cattle, Holme Lacy, Herefordshire. - P762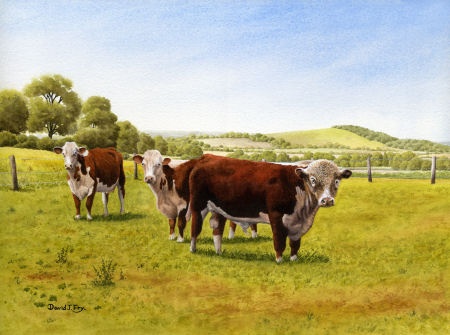 Hereford Cattle, Holme Lacy, Herefordshire. - P762
A popular animal with excelent adaptability to thrive in a variety of conditions, from arid desert to ice and snow. It is also good at foraging and good weight gain from small amounts of grassland. It is docile and has a good temerament. High fertility of the females means they are able to produce and wean calves every year. They provide top quality beef and also benefit from longevity with the bulls often still in use at fifteen years old. There are now more than five million pedigree Herefords in fifty countries around the world.
Original watercolour, image size 13.5" x 10".
(Original Watercolour SOLD)
The signed, embossed limited edition print, mounted to fit frame size 14"x 11"
Price £45.