Caernarfon Castle, North Wales - P787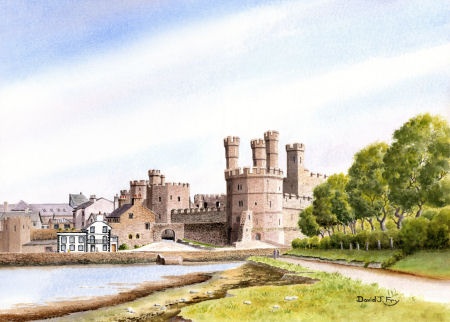 Caernarfon Castle, North Wales - P787
Caenarfon Castle on the Seiont Estuary is a medieval fortress in north west Wales. It was a 11 century motte and bailey castle when King Edward 1 of England with his wife Eleanor came to Caernarfon in 1283. In 1284 Eleanor gave birth to a son, Edward the second at Caernarfon Castle which was being rebuilt in stone that would eventually become the magnifisant castle that stands today. At the time the Welsh weren't happy about it as all the money from the Crown's Welsh lands was now his. A bitter pill to swollow for the newly conquered nation. For the last 700 years the title Prince of Wales has traditionally been taken by the eldest son of the reigning monach. It wasn't untill 1911 that the next Prince of Wales was invested at Caernarfon Castle. In 1969 Prince Charles was also Invested there.
Original watercolour, image size 14" x 10".
Mounted to fit frame size 20" x 16".
Price £245
The signed, embossed limited edition print, mounted to fit frame size 14"x 11"
Price £40